Playing the game
Shape Match is a game using shapes and colors. Just touch and drag one of the eight shape/color icons at the bottom of the window, then release on one of the shape/color icons in the middle of the screen. Use two of the bottom icons for each of the middle icons to create the top icons. Match all four and you've won!
Colors change based on addition/subtraction of individual base colors (ie if Red exists then 'adding' a red to it, cancels the red out; whereas, if Red doesn't exist then it adds Red to the mix). Red+Blue = Magenta, Red+Green = Yellow, Blue+Green = Cyan, Red+Blue+Green = White, No Colors = Black.
En Français: Shape Match est un jeu utilisant les formes et les couleurs. Appuyez simplement puis faites glisser l'un des huit graphismes de forme ou de couleur situés au bas de la fenêtre sur le graphisme de forme ou de couleur correspondant situé au milieu de l'écran. Utilisez deux des graphismes du bas pour chacun des graphismes du milieu afin de créer les graphismes du haut. Faites correspondre chacun des quatre graphismes et vous avez gagné !
Les couleurs changent en fonction de l'addition ou de la soubstraction des différentes couleurs de base (par exemple, si la couleur rouge existe déjà, celle-ci sera annulée en 'ajoutant' à nouveau du rouge ; à l'inverse la couleur rouge sera ajoutée au mix si celle-ci n'existe pas encore). Rouge + Bleu = Magenta, Rouge + Verte = Jaune, Bleu + Verte = Cyan, Rouge + Bleu + Verte = Blanche, pas de couleurs = Noir.
En Español: "Shape Match" es un juego que emplea formas geometricas y colores. Simplemente toque y arrastre una de las formas geometricas/colores localizadas en la parte inferior de la ventana y suelte sobre una de las formas geometricas/colores localizadas en la mitad de la ventana. Use dos de los iconos inferiores por cada uno de los iconos medios para asicrear los iconos superior. Junte todos los cuatro y usted ha ganado.
Los colores van cambiando en base a la adición/substracción de los colores base individuales (ejem. si el rojo existe, entoces "agregando" otro rojo causara que se anule el mismo, por otro lado, si el rojo no existe, entonces el rojo se añadira a la mezcla) Rojo+Azul = Magenta, Rojo+Verde = Amarillo, Azul+Verde = Cyan, Rojo+Azul+Verde = Blanco, Ningun Color = negro.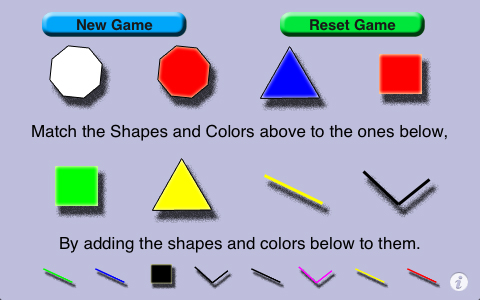 Email questions, comments and requests for games or additional features in existing games to miker@imagicplace.com
Imagic Place also produces fun, addictive games. Made exclusively for Macintosh™, iPhone™ and iPod™ touch, we look to take the violence and sex out of games and leave the fun. We also offer games that are educational as well as fun. Version 1 of Equation Time and Piece It Together are now available. Version 2 of both of these games are due by Fall 2007. If you enjoy them as much as we think you will, a $5 donation will get you a free upgrade to Version 2 upon its release.